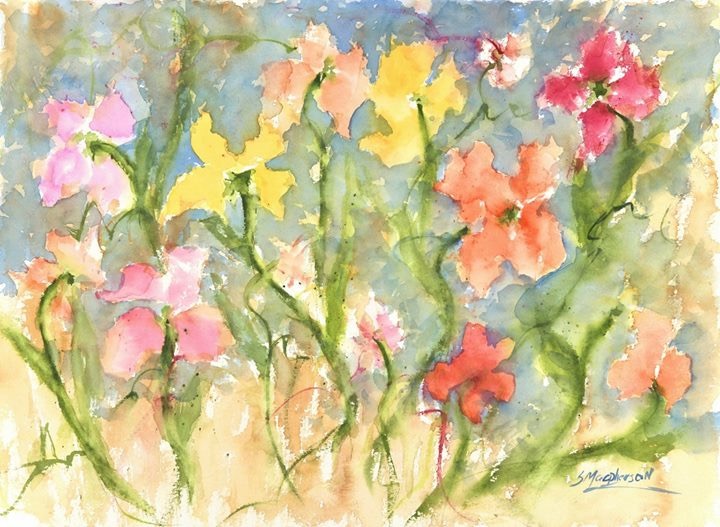 A Spring Promise
Original loose Watercolor painting of Spring Flowers

Medium: Watercolor on 140 lb Moulin du Roy cold pressed Fine Art watercolor paper
Professional Extra Fine Artist Quality Watercolor Paints
Size: 11 "x 15"

Signed Original by Shawn Macpherson

Loosely painted field of Spring Flowers in many bright shades of Spring. Shades of magenta, purple, pink, greens that will work with most decor. This painting will look great in most settings and add a summery touch, such as in a bedroom, guest room, garden room, kitchen.
This Original Watercolor has been framed in white frame and will be protected with in rigid cardboard for shipping.

Please note: Shipping cost is for "Regular Parcel" delivery. Please contact me for quicker shipping or other shipping requirements.

Shipping anywhere in Canada and US

ETSY http://www.shawnmacartist.etsy.com
Website www.shawnmacphersonartist.com
Facebook www.facebook.com/shawnmacphersonartist/
Instagram "shawnmacphersonartist"
Twitter @ShawnMacArtist
YouTube Shawn Macpherson Artist https://www.youtube.com/channel/UCs0UabG9QfR0J8w5Bnwxu9w?view_as=public
Art with Shawn Macpherson https://paper.li/ShawnMacArtist/1507003123#/


Giclee Fine Art Prints & Art Cards available as shown in links or please contact me for more info or optional sizes